All Donations goto Audrianna's Butterfly Garden and to help start the Audrianna's Foundation
Savings Account for Audrianna where donations can be Made
M&T Bank
50 Laurel Mall
Hazle Township, PA 18202
(570) 450-7830
F*CK CANCER T-Shirts can be purchased for $18 with shipping for sizes s-xxl and $20 for 3x or 4x just click the paypal button!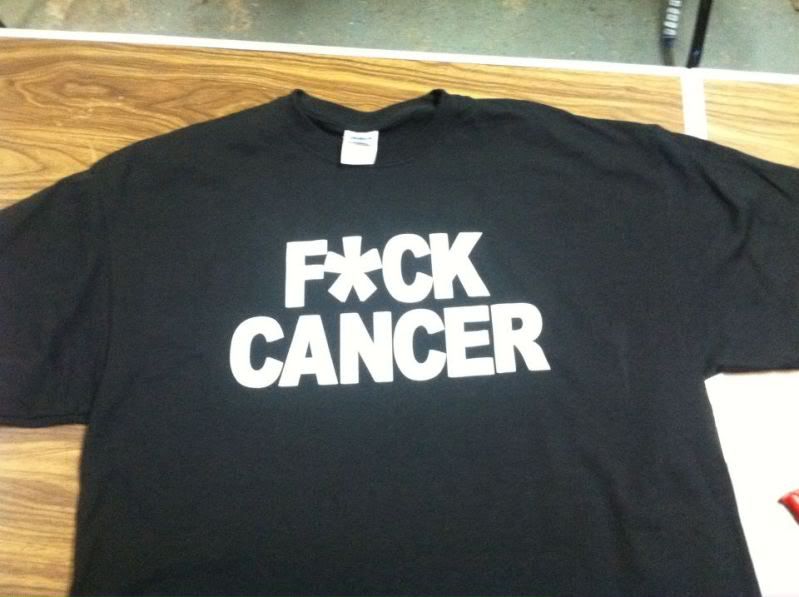 /

Monday, February 25, 2013
Hi Baby..hope your having a wonderful time in heaven and that your surrounded by your friends and that your happy..We all Miss You So much. Kyra has been sleeping in mommy's bed ever since they took your hospital bed because she doesnt want to sleep alone in any other bed..it has been 10 days since your gone and we all keep expecting to hear your voice or see you walk into a room...I still wake up every 2hrs all night long IF i sleep at all because i hear your voice calling to me for medicine,I am glad your not in pain anymore but also angry that your not in my arms..The one thing i cannot stand and im about to scream if one more person says it to me is SHE IS IN A BETTER PLACE NOW grrr how can they say that, there is no better place for you then in my arms and baby i want you back so bad that sometimes i cant breathe from the pain of it...But i have my Fake smile on and im telling everyone im ok because thats what they want to hear...nobody wants to hear how sad i am or that i miss you so bad i want to lay down and die with you but i cant because your sister needs me and she needs me to be as strong for her as i always was for you...I wish i knew her as well as i know you..i feel like Kyra and i are strangers...yes we live in the same house but i dont really know her as well because she was always with Nana and i was always with you because you were so sick...so now Kyra and i are getting to know each other again.and we are working on not getting mad at each other over silly things because we are both so angry over missing you but so far we are doing great mostly because Kyra is a very good kid and she loves everyone which she learned from her big sister...her capacity to love is just as big and just as beautiful as yours was.Thank You for that baby,for helping your sister be the beautiful person she is today...Your brother Bret and His Fiance Lizz got Kyra a hello kitty from build a bear and they put your voice recording in it, the one where you tell her you love her and she is your best sister...everytime she squeezes that and i hear your voice it hurts so bad because i know i'll never hear your voice in person again But in another way its the perfect gift because once the pain isnt so raw,the fact that we can hear your voice everytime kyra hugs her hello kitty is a wonderful gift.Everywhere i turn there are pieces of you, i opened the freezer to see if there was anything to make for dinner tonight and your alfredo pasta fell out at me,it was like you were telling me you were hungry...all i could do was cry and put it back and then go lay down and cry...the littlest things take away my ability to function like a normal human being...I can be fine all day, I can go on TV and talk about you and stand on stage at a fundraiser to help raise awareness BUT let me look at a corndog or a sausage dog which you loved and i fall down into a puddle...I havent been able to touch a candy bar since the morning after you died and i found the bite size twix bar in my hand under your pillow..i know that was something you sent me but i cant bring myself to eat the candy bars in our room because they were yours...even kyra doesnt want them because she says they were Audri's mommy...Same with your pasta nobody will touch it because it was YOURS and we all feel like if we leave it there you will come back for it!!!!! Again not a rational thought but right now there arent many rational thoughts in this house except the one that we are all think...WE MISS YOU BABY AND WISH YOU WERE HERE!!!!!!!!!!
Wednesday, February 20, 2013
Hi Baby we miss you,its been 5days since you were taken by this horrible disease and ripped from our arms to play with the Angel's.Mommy feels so lost without you,im barely sleeping/eating only when im so hungry the pains in my belly force me to eat and even then i feel nauseaous most of the time. Baby it has been you and me for so long that i dont know how to function without you,when i do sleep i wake up hearing your voice calling me and i jump up going what do u need baby does your belly hurt do u need benadryl and then i realize Your not there,im talking to air and i start crying all over again...everytime that happens i feel like my heart is being ripped out over and over but i wouldnt make it stop because then i wouldnt hear your sweet voice................Your sissy is having a very hard time with you being in heaven,she told me she is mad at god for taking you to play with the angel's because she needs you here to play with her and its not fair...she's right its not fair,none of this is fair dammit you should be here with kyra to celebrate her 5th birthday in 2weeks,she is so upset that you wont be there to watch her cut her cake,open her presents or play with her because so many times you celebrated your birthdays together....instead of 2 parties we would have one big one in the middle since kyras birthday is march 7th and yours is may 7th...kyra wants a monster high party and cake and she is mad you wont get to see it...i told her you would see it from heaven and that you would be there in her heart,but i have a hard time understanding that and im the adult so i know kyra is having a very hard time understanding those words and they arent giving her much comfort.This saturday which is only 4days away we are having a celebration of your life baby and i have printed so many pictures of you that i dont even know how to hang them all at this point,i dont think there was one moment of your life that wasnt captured on film and its so hard to just pick my favorites when they are all my favorites because your in them. We have 200 balloons in pink,purple and gold coming so we can do a balloon release and weather permitting we are also going to have doves flying which i know you would love. We were going to have a procession of motorcyles but Your making it snow on saturday i know you are so i told the bikes to wait till spring because i dont want anyone to get hurt while honoring your life. In the spring we are going to do a memorial run to raise money to help with your butterfly garden and your bench and it will be done the day we dedicate the garden which i know is going to look amazing! Ok baby i need to go and try and close my eyes again because of the really bad headache forming behind them but ill be back and we can talk again...I love you close to my heart and all the way to the angel's and back audrianna!!!!!!!
Saturday, February 16, 2013
Its been 33hrs since you took your last breath in my arms and i still feel like im holding you,i keep having to look down and shake myself because its just a phantom feeling of you in my arms and you arent really there.I am going through so many stages of anger,overwhelming sadness,laughter which i then feel guilty for..i feel like no matter what i say or do its never going to be right again.I slept in your bed last night clutching your teddy bear rosie and singing to her like i always sang to you until i cried myself into sleep from pure exhaustion,but you sent me a sign when i woke up...my hand was under your pillow and i was holding a mini-trix bar and i could hear you say *It's ok mommy it just a lil sugar it wont hurt you di-beates* and i thought your right baby it wont and ate that trix bar just for you.Mommy and Daddy had to go to the funeral home today and sign papers to have you creamated and pick out an urn, i couldnt find one i LOVED so for now i chose one i liked and i will get one i LOVE for your final resting place later,i wanted to see you again and they wouldnt let me which made me so ANGRY but the funeral director was very nice and told mommy that she had been through enough and that you were with the Angel's now and not in the body they have...Ya know what I WANTED TO SMACK HER AND SCREAM I DONT CARE THATS MY FUCKING BABY LET ME SEE HER...But i didnt because she was probably right even if it didnt feel that way. I hope that your with the Angel's running and jumping and cancer free now baby,with beautiful long hair and no more pain EVER..i know when you got there you told them that white wings were not your style you need a wand,glitter and pink wings asap and i also know that you were there to welcome Robert tonight when cancer took him from his family too baby....I wanted to ask you to please send Sissy some extra Angel love tonight she is very very sad...she keeps asking me when she will see you again and she told me how much she misses her sissy, she also says her heart is breaking in a million pieces because she cant see you anymore...i keep trying to tell her your always in her heart and you will always be with her but she is little and doesnt understand that...she cant understand why she can only see you in pictures...she broke down tonight and cried and told me she wants to got heaven with you because your her big sister and whenever she was scared you would cuddle with her and make her feel better,you always took care of her,played with her and went to mcdonalds playplace and climbalot with her and now she is afraid she will never have anyone to play with her again. She also said she is afraid to Die because you died,i told her that you were really really sick with cancer and that she isnt sick and doesnt need to be afraid of dying and she said but mommy everyone dies and someday you and me will die and be with audri...i told her yes but that someday wasnt going to be for a very very long time...But baby i know she didnt believe me...its 2am and she doesnt want to goto sleep even with mommy because i dont cuddle like you did, so she is in dustins room looking at dolls on the kindle and watching him play video games...i dont know how to make this better baby...i told her that my heart was breaking to and i didnt think there was enough super glue in the world to put our hearts back together now that your gone....then i waited for her to leave the bathroom and i punched the wall so many times i hurt my hand but it didnt know how else to let the pain and anger out,without you we are hurting so bad that we cant function and i know you wouldnt want this, i know you would want us to be happy your not hurting anymore and take care of each other but baby we cant figure out how yet. Daddy cries all the time, at the drop of a hat he cries, he picked up your lil teddy bear he gave you for valentines day and cried so hard i didnt think he would ever stop then kyra hugged him and said she loved him and he finally stopped crying....for me i wish a hug was enough...i keep falling down and i dont know how to drag myself back up..if it wasnt for aunt dari, aunt dena,uncle johnny,uncle billy,uncle denny,nana,poppa john, aunt kelly,aunt lori,aunt amy,aunt karen,aunt becky and all the people that are surrounding me right now id be in a puddle on the floor all the time,right now its only part time and im slowly crawling to my feet. Please send me strength baby so i can be ok to take care of your baby sister...sleep sweet with the angel's tonight audrianna and send sissy sweet dreams because she is finally ready for mommy to try and cuddle her as good as you always did
Audrianna passed away peacefully in my arms at 545pm friday febuary 15th after a very long hard fight. Her poor little body couldnt take anymore,she didnt want to go believe me she was fighting so hard to stay,kept saying mom and i love you untill she couldnt talk anymore and her breathing got labored and then her heart stopped beating...this is the reality of pediatric cancer that no parent should ever have to suffer....even worse was after and still now i hurt so bad i want to die i want to lay down and never wake up. I had to watch the funeral home zip my baby into a bag last night A FUCKING BAG i have never felt more helpless or more alone then in right that second...rationally i knew she was already playing with the Angel's who were waiting for her...Kelly,Tanner,Emily,Hudson,Kelsey,Ashley and so many others but i wasnt rational and all i could think is she is gonna be alone and cold and i have never left her before not once in her whole life how do i leave her now, just how.After i let them take her and we left the hospital, i couldnt get off the elevator, i felt like if i did id be admitting she was gone and i wasnt ready to admit that, my parents had to peel me off the floor because i couldnt do it alone.I came home and slept in her bed last night,with her teddy bear and her pillow and blanket because it smells like her and again today i need to call and tell them to come take her bed away because its a hospital bed on rental so thats just one more piece of her im losing...i feel like my heart is in so many pieces i will never be able to pick it up again and i dont know how to keep breathing without her.I am leaving in 2hours to go setup to have my child creamated and pickout an urn, yet another thing nobody should have to do for there 6yr old....FUCK YOU CANCER!