All Donations goto Audrianna's Butterfly Garden and to help start the Audrianna's Foundation
Savings Account for Audrianna where donations can be Made
M&T Bank
50 Laurel Mall
Hazle Township, PA 18202
(570) 450-7830
F*CK CANCER T-Shirts can be purchased for $18 with shipping for sizes s-xxl and $20 for 3x or 4x just click the paypal button!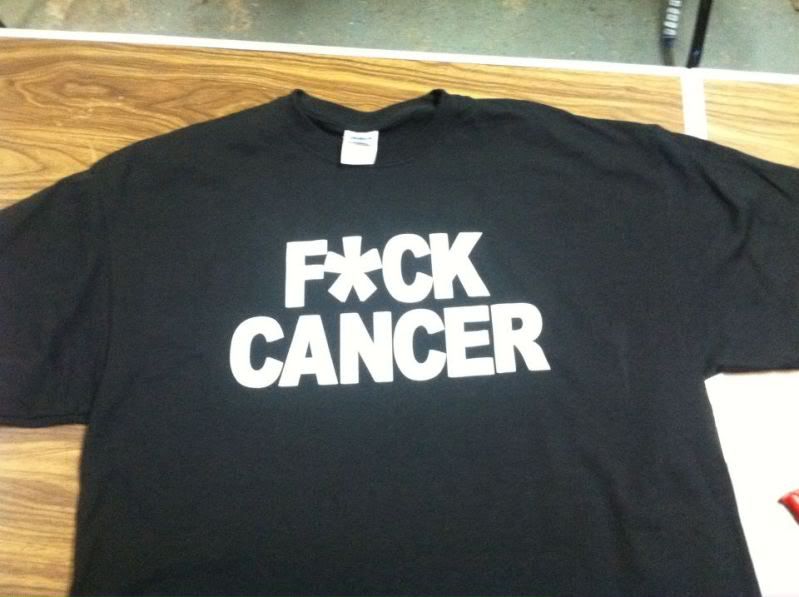 /

Saturday, September 15, 2012
I talked to the doctor today and after he talked to chop and sloan kettering who both said there is nothing else they can do unless she has the Alk Gene(which we wont know for 2-4weeks)we have decided to take her home to heal from her surgery as soon as she is able to go and then bring her back the first week of october for one very intense round of high dose chemo which is going to make her very very sick,just to see if it has any effect on the tumor at all...and also this way she will be stable enough to go on her Disney Trip from the 12th of November to the 18th and not have to worry while we are there.By then we should have results of the Genetic Testing and know our next step...does she have the gene and get the treatment of does she go home and continue to fullfill all the things she wants to do on her bucket list....................................................................................I want to Thank EVERYONE that has come forward to help with the things she has listed on her bucket list, so many people want to help and have or are trying to its amazing to me to see the love for her that all of you have and i want you all to know that it has given me knew hope, and even if she doesnt have the Gene Marker for the therapy i know she will and we will be Ok because there will be NO REGRETS on anything we have decided to do.....The Wheelchair for her American Girl doll was taken care of by so many people before i even knew it was happening i was amazed...I need to tell you all a story of 2 beautiful little girls...Twin daughters of my friend Angela who are a around Audrianna's age and have met her a few times and been praying for her constantly since her bday party 2yrs ago when they first met in person, there mom told them Audrianna wanted the american girl doll wheelchair and they had one so they asked her to please give it to Audrianna since she deserved to have it...now that just shows the generosity of a childs heart...i said no i didnt want to take a toy from them and there beautiful mom said...please let them do this it would mean so much to them that i said yes and she dropped it off for Audrianna at my moms house....Believe me im sure there are more coming in the mail as there were tons of responses to that one request but this one meant the world to Me...Thank You Girls we love you!!!!!!!! Everyone that has donated to her paypal we thank you, everyone that is working so hard on getting her a helicopter ride your amazing and we thank you....The people working on the Hot Air Balloon ride...Thank YOU!!!!! The swimming with Dolphins is going to Happen also and we cannot say Thank You Enough, i dont think Thank You are strong enough words at this moment for all the Love and Support we have been given but i dont know what else to say!!!!!!!..............................................................................Audrianna is feeling better since they have gotten her pain under control and yesterday she had wonderful visitors, her beautiful friends that she met from Pennstate Hazleton's THON program who are now mostly in state college drove all the way here yesterday...Bought her a REAL Hot Pink Guitar and stayed to play and cheer her up, she WALKED for the first time while they were here,she smiled for the first time and played like a kid for the first time....I can NEVER Thank Sam,Tara and Marques enough for that couple hours of peace they gave us yesterday...Poor Marques was such a good sport when she PAINTED HIS FINGERNAILS RAINBOW COLORS lmao the look on his face when she asked was priceless but he did it just to see her smile, these kids have such good hearts and i love them all so much...they are FRAMILY(friends who have become family)and i am thankfull everyday they came into our lives...WE ARE PENNSTATE!!!!!!!!!!!!!!!! Then later in the day her friend Kaylana came to visit and they played together for a while......And then Amy came to visit and brought her a cheeseburger just Ketchup,Fries and NO DRINK lmao because that is what the princess ordered and Amy loves her and was such a good sport even when Audrianna wasnt feeling good and asked her to leave after a half hour, her neice brooke was amazing and wanted to take a picture with Audrianna so she could get her school to do something for pediatric cancer awareness...god i love kids! Thank You Amy for coming all the way here it meant alot........Oh and Matt she hasnt stopped talking about you sending her a picture back sticking your tounge out hehe she loved that!!!!!....................... Last night Audrianna went to bed exhausted and in a lil pain from overdoing it but happier then she has been in over a week so it was well worth it and i actually slept knowing she was ok..................................................................... This has been a very long roller coaster of a week with all the ups and downs and the news that the tumor is wrapped around her aorta and her diaphram and moving into her lungs and there is nothing surgical they can do and maybe nothing at all because its chemo resistant now and i have been slowly losing my mind and going crazy trying to be strong and plan out everything we are going to do to make her last days happy if it comes to that But yesterday i got to forget all that for just a lil bit and just be glad she was happy and now i feel renewed like i can take on the world at least for today, so no losing hope, no giving up, no giving in till the end we fight....Love You ALL and Thank You for Loving us xoxoxox Angela, Audrianna and Family
Thursday, September 13, 2012
Everyone keeps asking how im holding up,honestly i dont know how to answer that because im not im just going through the motions and doing all the things i have done before so that nothing is different or unusual for Audrianna so she doesnt get scared. I do know that i have been closing myself off and shutting down because i feel like if i keep talking about this, if i talk to my family or friends and tell them whats really inside me that i will fall down and i will Never get back up because there wont be enough pieces left of me.I know that i am probably hurting my parents,my brothers,my friends,my husband and everyone else that is close to me but i cant i just cant let go right now...i have this steel rod of determination in my back right now to get Audrianna all the things she needs/wants so that Never will we look back with regret and say we should have done that while she was here...i want to look back at her life and smile and say Wow look at all the things we did in the time she was here, she may not have been here forever but she sure taught us how to live while she was with us. No 6yr old should have or know what a Bucket List is...My 6yr old does. And the first thing on top of her list is GoTo Kindergarten(something she should be doing anyway)something other kids/parents take for granted my child is literally dying to do....She wants to ride in a helicopter, Go up in a Hot Air Balloon,Go Back to Disney and while she is there swim with the dolphins,Go back to Ny City and the big toys-r-us and ride the ferris wheel one more time...She wants a wheelchair for her american girl doll because then they can ride around in them together....and so many other things im sure that she hasnt told me yet because she isnt really feeling well enough to have a long converstation...This beautiful soul was given to me to love and cherish and right now that's what im concentrating on doing...Loving her and giving her everything she has asked for to the best of my ability...so if i tune you all out and i dont call you and i dont cry when you think i should because its unhealthy to hold it all in please just know that this is how im surviving right now...one step/breathe at a time and dont hate me for shutting you out, respect me for holding on and standing upright to do what needs to be done.....I do want to thank you all for being there and for loving us and supporting us, for reaching out and lifting us up...for helping make her dreams come true...please know that everything that has been done for us throughout the last 3 1/2yrs has been appreciated more then you will ever know....the help with christmas gifts,the trip to sesame place,the trips to NYC, the trip to the beach on long island,the benefits held to help our family...All of those things are memories we never would have had with Audrianna if it wasnt for all the loving and caring people that have helped and loved her....So to all of you Thank You<3
Monday, September 10, 2012
People say that Grief comes in stages well i guess im at the anger stage and im not sure ill ever be over it, im angry my child has cancer,im angry there is No funding for pediatric cancer,im angry that she has spent the majority of her 6yrs on earth in a hospital room hooked up to machines and tubes and im so fucking angry that once again we are being told that there may not be a chance for her to grow up!!!I have so much anger weighing me down that i dont know how i stand up some days and yet i go on and i smile and act like life is perfect because thats what she needs to me do.I help her goto the bathroom while she cries in pain because once again her stomach has been cut open to remove a tumor that's killing her and im so angry that after all that the docs say they dont think there is anything else they can do surgically to help her,im angry that if she doesnt have a certain gene that will put her onto a clinical trial that i have to make the decision on whether or not to put her through more hell or let her come home and enjoy what time she has left with us...there is so much anger its eating my soul...im angry that i may have to tell one child she is going to die and im angry that i may have tell her little sister that one day her big sister will be gone and she wont ever be coming back..i am so Angry that Cancer is stealing ALL OF OUR LIVES...it's killing my baby and stealing the rest of our souls as we watch her suffer....there are so many people that say they are praying for her and i should believe in miracles and that god will find a way and you know what?? THAT PISSES ME OFF BECAUSE WHERE ARE THEY.....are they here watching her suffer and die? NO they are behind computer screens and hiding in there homes instead of coming to see her because they cant handle this , they cant handle seeing her sick or in pain, they cant deal with the fact that she may die BUT they all want to have an opinion on what we should do and how we should handle the news and what treatments we should or shouldnt do and ya know what FUCK everyone that doesnt think i have done the right thing till now or doesnt like the decisions i will make about her future because i swear to All that is Holy if one person tells me i am giving up because i decide to let her have quality of life instead of quantity so help me i will end them......NO PARENT SHOULD EVER HAVE TO LOSE THERE CHILD TO THIS HORRIBLE SOUL SUCKING DISEASE OR HAVE TO JUSTIFY THERE DECISIONS FOR THERE CHILD TO ANYONE...Believe me we will have to live with whatever decisions we make for the rest of our lives and they will eat us alive everytime we think what if....I wouldnt wish this hell on my worst enemy...i wouldnt wish this hell on the terrorists that attacked our nation on september 11th, even though they deserve to suffer for everything they put our country through they still wouldnt deserve this...Cancer is a form of terrorism as far as im concerned,it attacks when you least expect it and it tears huge holes in the structure/foundation of your life....Besides the anger i have so much Fear...I fear i wont be able to be strong enough when she needs me to, i fear i wont be strong enough to still be a good parent to her sister if i lose her,i fear that i will lay down and die without her because she is the best of me and i dont know how to life without that part of me...Audrianna was my miracle baby that i waited 14yrs to have..she came early and fought for every breathe and then when she was finally well she was diagnosed with cancer and has literally fought from her first breathe to be here and LIVE...and i cannot understand why she has had this fight and why she has to continue to fight other then the fact that she has taught me and so many others how to be strong...i would never say i love one of my children more then the other because i dont...i love both the girls so much and i cannot imagine my life without one or the other they have both been true miracles and blessings to me and my biggest fear is that i will lose them both if audrianna dies...i feel like Kyra will hate and resent me for the rest of her life because she will blame me for her sister leaving and spend the rest of her life in therapy for the things i as her mother couldnt fix....so between the anger and the fear right now i feel like im drowning and i might never be able to swim to the surface again....i have always been there for everyone else and always been the strong one and right now i just feel like im cracking in half and i dont know how to put the pieces back together to stay strong for the people who need me...im starting to feel like humpty dumpty and i fear the pieces may never be put back together again....please hug your children tighter tonight and always remember to tell them that you love them even when they are being so bratty you want to lose your mind because you never know if there will be a tomorrow to say those words to them!