All Donations goto Audrianna's Butterfly Garden and to help start the Audrianna's Foundation
Savings Account for Audrianna where donations can be Made
M&T Bank
50 Laurel Mall
Hazle Township, PA 18202
(570) 450-7830
F*CK CANCER T-Shirts can be purchased for $18 with shipping for sizes s-xxl and $20 for 3x or 4x just click the paypal button!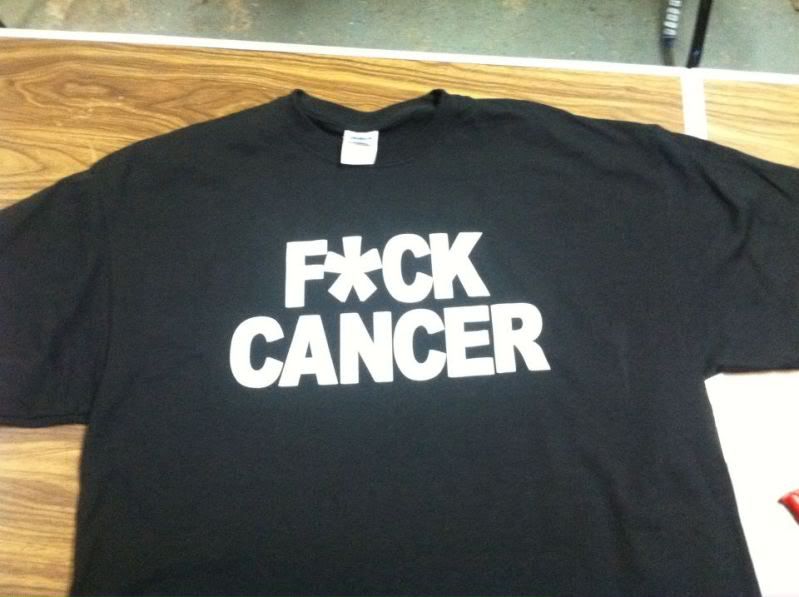 /

Wednesday, June 13, 2012
Audrianna asked me in the car today Mommy when someone dies do they get buried...so i said yes baby they get buried in a cemetary(just like the one we happened to be driving past)she said oh ok what are those stones for...i told her they were called headstones and they had the persons name on them so that people who loved them would know where to look for them when they visited them in the cemetary...she then asked why there were flowers on the one grave and i told her because someone had died and someone they loved had visited and put flowers down.....Audrianna then said you mean like when Grandma Gerry Died Mommy and I said yes baby,when mommy and Nana go vist her we put flowers on her grave...then she asked me if i would put flowers on her's when she died and went to heaven with all of her friends and Grandma Gerry....I stopped and couldnt speak while the tears rolled down my face as i was driving and then i said Yes Baby someone You love will put flowers on your grave when you goto Heaven but Your gonna live a Long time so it probably wont be mommy.....and she said no mommy i think it will be you... and then she changed the subject and asked me to put the music on....I cried for the next 15 minutes silently in the front seat of the car as i drove because all i could think is she is a warrior and tells me all the time she talks to angel's so maybe she knows something i don't.....but please dont let her be right because i dont know how i would handle having to put flowers on her grave....I have friends that i have watched lose there children and they stand up go on with there lives and the fight because thats what there child would have wanted and i give them so much credit because i dont know if i could be as strong as Caroline,Janet,Amy,Atisha,Annette,Annmarie....Just to name a few of the brave and strong mothers i know and love BUT i pray that if i had to i could be even half as strong as they are..My Warrior Mom's!!!!!! So after this conversation we finally made it to the eye doctor, the girls all happy and me with puffy crying eyes...Kyra had to get her eyes rechecked and get new glasses because hers hurt her and Audrianna has been telling me for a while she needed glasses like her sister and she was right she did so now she will have glasses and hearing aides thanks to the effects of the chemo. Both girls picked out very pretty glasses, Kyra got green glasses and Audrianna got Pink of Course lol she is my pink kid...then they went to grannys to spend some time and have dinner with her and mommy got to go home and relax and try not to cry anymore,until now as i sit here typing this in the dark because now i can cry alone and nobody can see me. It has been pretty hectic here in our little world,We had a scare 2 weeks ago where the docs thought that Audrianna's tumor was growing again and thank god they were wrong...the tumor is still there but its stable and not shrinking or growing at this point so they will continue with this course of chemo treatment for as long as they can as long as it doesnt affect her organs in any way so for that we are thankfull..........................................................................!!! We are also thankfull for all the people out there that follow Audrianna's story and love her...a couple of weeks ago i had asked for airline miles to help take Audrianna back to disney and was pretty badly attacked on her FB Page but out of the negativity came something great...One of Audrianna's Friends from her page sent the link to a friend of hers Daniel Sweigard from Outten Country Chrysler in Hamburg,Pa who found the attack so offesive that he then went to His boss and said look at this beautiful little girl who wants to goto disney can we help her family in anyway and they decided to sponsor Audrianna on trip to Disney....I cried when Dan and i talked and he told me, and as i told him, there are still Angel's here on earth and for every bad person out there....10 good ones make up for it...we will be forever gratefull for this trip, its something she has been asking for that we couldnt give her and she is so excited that she gets to go around christmas time to see Santa and Mickey Mouse at the same time!!!!! All i want out of everyday is to see my girls smile and i will do anything to make that happen...you never know how long your going to have your children, you never know if your going to hear the words your child has cancer,spinabifida,HLH,Diabetes,Pseudo Tumor Cerebri or any of the thousands of other debilitating diseases i see kids fighting everyday...so we will now and forever to continue to live like we are dying...because we never know if tomorrow will be here for any of us so we are going to enjoy today...and that is something i have learned since my child got sick!